The Syrian regime is setting up shell companies in a systematic attempt to avoid sanctions, according to official documents obtained by the Guardian.
The documents, not publicly available, detail at least three companies established in Syria on the same day for the explicit purpose of operating as a shell to buy shares and manage other companies.
They show clear links between the owners of the new shell companies, President Bashar al-Assad and Syria's economically powerful elite, including those under sanction.
By complicating the ownership structure of companies in Syria, it becomes more difficult to disentangle the role they play in bolstering the regime's finances and it is more difficult for foreign powers to effectively impose sanctions on the inner circle of government. .
Last October, Syrian Economy Minister Muhammad Samer al-Khalil said that "evading sanctions has become a Syrian profession", and called on foreign investors reluctant to join the market due to sanctions "to not appear under their real name on the local market". ".
Each of the new shell companies, created in October 2021 – Trappist, Generous and Super Brandy – is majority-owned by an individual linked to the Syrian regime through a complex web of relationships.
Eyad Hamid, senior researcher at the Syrian Legal Development Program based in London, said: "It is important [to continue to track shell companies] because it is part of the freezing of assets and the draining of resources that the regime uses to violate human rights in Syria.
Justine Walker, head of global sanctions at the Association of Certified Anti-Money Laundering Specialists, said governments don't have to wait for front companies to start buying stock or transferring money before imposing on them. Sanctions.
"Part of [sanctions] is to ensure that a company does not continue its activities and is unable to set up [in the first place]," she says.
One of the three owners of the new front companies is Ali Najib Ibrahim, who co-owns Tele Space, a co-owner company of Wafa JSC, which was licensed in early 2022 to become the country's third-largest telecom operator.
Another co-owner of Wafa JSC is Yasar Hussein Ibrahim (also known as Yasser Hussein Ibrahim), adviser to Assad and head of the economic and financial office of the presidency, and under US and UK sanctions. United.
The other two personalities who own the new front companies are Rana Ahmad Khalil, 20, and Rita Ahmad Khalil, 21. They are the daughters of Ahmad Khalil Khalil, who half-owns Tele Space, in partnership with Ali Najib Ibrahim.
Ahmad Khalil Khalil is also co-owner of Sanad Protection and Security Services, which is responsible for protecting Russian phosphate shipments from central Syria to the port of Tartous.
His partner in Sanad Protection is Nasser Deeb Deeb, co-owner of Ella Services – and under US sanctions – with Khodr Ali Taher, a prominent Assad regime businessman.
Taher, who has also faced sanctions from the US, UK and EU for funding the regime and his involvement in smuggling and profiteering, is believed to be involved as a captagon smuggler – a type of locally manufactured amphetamine.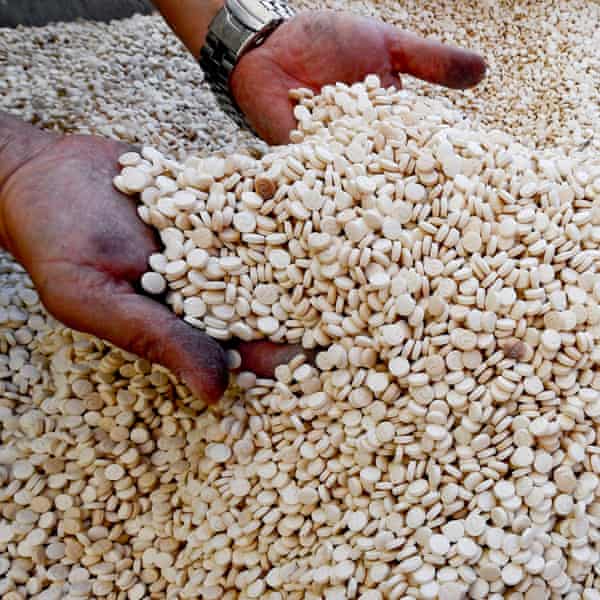 The criminal network that the Syrian regime uses to evade sanctions and to keep the country's illicit economy functioning is beyond any updates from Western governments.
Hamid said: "The new [Biden] The administration's sanctions have been very limited and, in a way, they don't have the appetite that was in the previous administration to impose sanctions on individuals in Syria.
The same goes for the British government, which has only announced a new round of sanctions since leaving the EU. Sanctions targeted close Assad allies, including Yasar Hussein Ibrahim in 2021 and Syrian Foreign Minister Faisal Mekdad. The US Office of Foreign Assets Control, the enforcement agency of the US Treasury, also imposed sanctions on Ibrahim and Taher.
Peter Stano of the EU's foreign affairs department said developments in Syria were constantly monitored.
"[The EU] has shown…that it is responsive in deciding to renew sanctions and/or modify the list of targeted entities or individuals based on developments on the ground," Stano said.
The European Commission said it would pass the information published by the Guardian to "the relevant competent authority for assessment and, if necessary, further investigation".
The US's so-called Caesar's Law – named after a Syrian security whistleblower who documented the Assad regime's use of torture – allows secondary sanctions to be imposed on individuals and companies linked to the regime even if they have not committed any reprehensible behavior.
However, such penalties have not been applied since the law came into force in mid-2020.
Walker said: "If you can imagine how many companies are being created in Syria, it's outside the bandwidth of governments… [therefore] investigation specialists [and] due diligence providers… play a very crucial role.
Hamid added: "There must be more investment, investigation and sources on the ground to follow these changes in the Syrian business scene, because it is not a stable environment, it keeps changing.